Get in touch with us using this form
Interested in a Fairy Tale Princess Party? Send an email using this form and we will get back to you with more details!
If you have any problems with this form or have any questions, please e-mail us at contact@fairytaleprincessparty.com or call 403-730-6345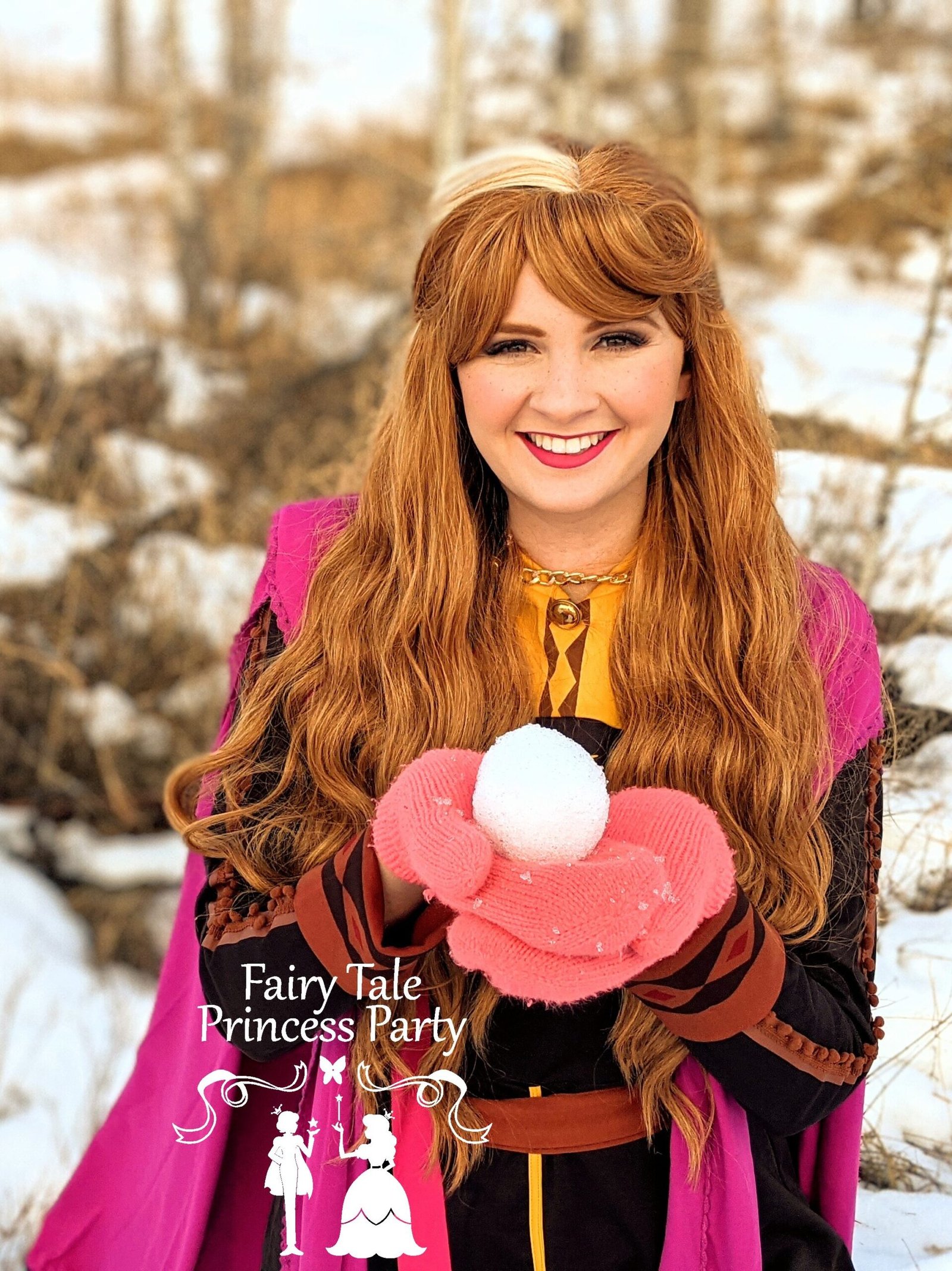 FAQ
It is highly recommended you book with us first before planning your party and sending out invitations to avoid disappointment. We do book up quickly, and even though it is sometimes possible to fit in last minute requests and we will do our best to accommodate, ,we advise booking at least 2-3 months in advance, especially if a certain character or date is being requested.
COVID-19 Policy:
With the ever changing rules & regulations, please contact us directly for information on our Covid-19 practices.
1. What makes your birthday character visits special?

A. Our princess visits are designed to engage children's imaginations and make the fairy tale character come alive. Our goal is to ensure that all kids feel special during the birthday visit and that activities include all participants – no child is excluded or singled out. We have a fabulous cast of actors trained in children's entertainment. We work hard at perfecting our skills: acting, storytelling through puppetry, magic, facepainting and balloon twisting by attending children's entertainment workshops and sharing our skills with other children entertainment professionals. Our costumes are all custom made with careful attention to detail to wow your birthday child and guests. No mass-produced costumes. We are pleased to be chosen to bring the magic alive at your event.
2. Do you travel to locations outside of Calgary?

A. We are happy to travel to events anywhere in Calgary and surrounding areas. Some of the places that we travel to are Okotoks, Airdrie, Turner Valley, Lac des Arcs, Chestermere, Crossfield, Langdon, Olds, Red Deer, Balzac, Canmore, Carstairs, Priddis, Springbank, Banff, Bragg Creek, High River, Innisfail, Strathmore, Carstairs, Springbank, Black Diamond, and Cochrane to name a few! There is a travel fee that applies to all areas outside of Calgary and Chestermere. Please inquire about the travel fee to your area.
3.  How far in advance should I book my character appearance?

A. It is highly recommended you book with us first before planning your party and sending out invitations to avoid disappointment. We do book up quickly, and even though it is sometimes possible to fit in a last minute request and we do our best to accommodate, we advise booking at least 2-3 months in advance, especially if a certain character or date is being requested. Please note that Saturday afternoons are the most popular time slots and these are the bookings to fill up. If you were hoping to book for this time slot, and it is already spoken for, please consider alternate dates and times in mind. Did you know that having a party on a Saturday morning means that you then have the whole weekend to relax after the celebration?
4. Do you have special policies for outdoor parties?

Please provide a chair for the performer so as to protect the custom costumes from getting dirty/wet.
Please ensure that the performer is in the shade the entire time (the costumes and wigs are VERY hot).
Please have water available for the performer (tap water is fine).

We appreciate your help in ensuring that our performers stay safe to avoid heatstroke
5.  Is the birthday child included as part of the max number of children? What about siblings?

A. When calculating the total number of kids, we don't include any of the kids 2 years old and under as they are still into independent play, nor do we count those 8 years old or older as they are usually more wanting to be helpers at that point. If you will be over the max number of kids, please add another character to help deal with the larger sized group. If you have chose one of our 2hr packages with facepainting, please include all guests who be wanting facepaint as part of the total number of kids (to ensure that there will be enough time to complete their designs).
6.  When should I plan to have the character arrive at the party? Is there a special way that the character comes in?  Or should the character come earlier than the kids?

A. We suggest having all of the kids arrive prior to the character appearance start time. We recommend that the special character appearance begins 15min or 30min after the party start time to allow time for all guests to arrive. Some hosts will have the character(s) arrive 1hr or more after the party start time (you'll know your guests best and what amount of lead time you need to give them to catch all the stragglers – we wouldn't want your guests to miss out on all the fun). Otherwise, as extra guests arrive, the kids all get up and rush to the door during the start of activities and there is more time spent refocusing the kids. It makes it much smoother to have everyone there when the activities begin.
7.  Do you provide a gift to the birthday child?

A. Yes! The character brings a gift for the birthday child that he/she gives before the character leaves. It is a special age appropriate gift chosen for the birthday child.
8.  Is there anything special I should do to prepare for the party?  Does the character need any extra props?

A. All we ask is that you please have a large clear area for the kids and the character to play in. If you are wanting to use your living room, that works – we just recommend that you move the furniture to the outside and ensure that the coffee table is moved to another room. Please note that parents are welcome to participate and are encouraged to do so! Adult supervision and attendance at all times is required for the success of the character visit
9. Do you provide dress up clothes?

A. We do not provide dress up clothes as we have learnt that it inevitably leads to disagreements amongst the children – even with identical costumes, someone finds that another costume is a bit better somehow! We focus on making sure that everyone feels beautiful/handsome as they are. If you would like to ask the children to come dressed up, that works really well and please note that we don't expect anyone to be dressed up 🙂 Very often, guests will come with their costumes from home and don't bother wearing them because they feel more comfortable without. We feel our role is to make sure that they all feel special – dressed up or not!
10.  Do you provide any prizes for the games the kids play?

A. We offer games where all the kids are included at all times and/or where everyone wins at the same time, so there is no need for prizes. No one is singled out or excluded. The games have been carefully chosen to this end on purpose. We want everyone to feel special at all times. Our games are organized so that no prizes are needed – the kids all participate at the same time. We have learnt that focusing on group activities and games builds on positive non-competitive play that includes everyone involved and that's what we value most and makes for a successful character visit. At the end of the last activity before photos, the character gives every child a sticker of his or her choice.
11.  Do the characters give the kids candy?

A. No, the characters do not offer candy. The activities are designed to get the children to use up any excess energy during the birthday visit so the kids are calm and happy by the end of the program and that they are sure to sleep well that night!
12. Should I provide dress up clothes for all the kids during the party?

A. Our goal in our parties is to keep ALL kids entertained for the duration of the character visit. We have found that providing dress up clothes that the kids are not used to wearing for long periods of time inevitably leads to wardrobe changes, wardrobe malfunctions (straps need retying, tiaras fall off, shoes are determined to be the wrong color for the outfit), etc which leads to kids being distracted, wandering off and missing out on all of the fun. Sometimes offering dress up clothes that the kids are not used to wearing also leads to safety hazards if the kids trip on costumes that are too long or slip because costumes don't fit quite right, etc. We offer all-inclusive games and activities during our 1h and 1.5h visits to keep the kids occupied and playing the whole time and not focused on what they are wearing. If you want to provide dress up clothes, this is a great activity, but we don't want you to feel that you have to provide them as we strive to engage all the kids during the character visit
13.  There may be a few boys in attendance (brother/nephew/cousin of bday girl) – are they incorporated somehow into princess events?

A. All the stories/activities that we offer include the boys, and many boys stay interested in the princess visit the whole time, but some boys find that princesses are inherently just too feminine for them and might wander off. We recommend having some toys in the room around for them – blown up balloons work really well. We offer a wide range of activities and there is something for everyone 🙂 We find that by the second half of the visit (which is often a bit more active), any boy who has decided to play with balloons is actively participating with all the girls (and we do this on purpose because some children are more timid and so we start off a little more slowly to warm up the timid ones)! Alternately, we have many boy characters and adding a masculine character to the visit is also an option to consider if that is something that you might like to add.
14.  Do the children make crowns or anything like that during a character visit?

A. At Fairy Tale Princess Party, we have an entertainment background, so our packages are entertainment-based, rather than focused on crafts or spa-related activities. We have found that many moms feel comfortable with the crafts and spa-related activities and so we focus on the skills that most moms would rather not pick up because they are so busy with other things all the time. If you are planning to make crowns, by all means do so! It's a great complementary activity for princess visits.
15. Should I get craft supplies for the princess to do with the kids?

A. We find that crafts require a lot of set up time and individual attention which breaks up the flow of the party, which means that some kids will wander off during this time. Boys also are generally not as interested in craft activities as girls. As a result, we prefer the focus to be on on all-inclusive games and activities during our 1h and 1.5h visits to keep the kids occupied and playing the whole time. We don't want you to feel as though you have to provide them as we will entertain the kids the whole duration of the character visit. That said, if you would like to provide crafts, these are a great complementary activity and the characters would be happy to help out with them if you wanted but there is PLENTY in the character party bags to keep the kids occupied.
16.  Do you offer facepainting?

A. We offer facepainting as part of our 2 hour visits. We don't offer facepainting for shorter visits because we take the first hour to establish the character and to get the kids' wiggles out first. It takes about 1h to facepaint 12 kids, so we offer it as an add on for the second hour and it's a great activity to have while kids are eating, opening gifts, working on a craft or are having free play time. If you have more than 12 children in attendance, we require two characters to deal with the larger numbers. With our facepainting package, we ask that you provide a table and two chairs or an island and a bar stool height chair and access to a sink. If you prefer balloon twisting, we also offer balloon twisting. Both balloon twisting and facepainting are subject to performer availability. Please note that facepainting for boy characters is not available at this time (our male actors are very talented but do not currently offer facepainting).
17.  What else do I need to do provide for the party?

Our specialty is to provide entertainment, so if there is anything else that you'd like to have for the party: decor, food, cake, party favours, etc, that would be best for you to provide. If you would like a professional photographer, we have a great photographer as part of our royal team and she also can offer decor services if you'd like – please let the Fairy Godmother know if you'd like to get in touch with our decor specialist/photographer.
18.  Do you recommend that the character visit be a surprise?

A. As for mentioning a surprise visit- you'll know best. Does your child like surprises? Sometimes, the surprise can be way too overwhelming depending on the child's personality. Some moms have amazing strength are are able to keep the character visit a secret and don't tell their child and the child is SO HAPPY when they open the door to reveal that there is a really special guest at their party! It really depends on how your child takes surprises. For others, the kids have been begging for months, and it isn't a surprise, but a countdown to the day…. It's a tough decision to make but being your child's parent, you'll know what approach will work best for them.
19.  I am very interested in performing at kids parties as their favorite character.  How can I apply?

A. At Fairy Tale Princess Party, we work with outgoing, reliable and professional children's performers with proven entertainment skills in acting, dancing, improvisation, storytelling, musical theatre, balloon twisting, face painting, magic, puppetry and clowning. Preference is given to accredited members of local children's entertainment organizations. Experience in paradeability, walkabout skits, birthday party routines and stage shows is highly recommended. A police background check with vulnerable sector verification is required to be part of our royal team. If you are interested in performing with us, please send:

a cover letter outlining why you are interested in applying and your experience in performing children's entertainment
your resume
headshot

to contact @ fairytaleprincessparty.com. We would like to thank you for your interest in applying to work with us!
Contact us for any of our characters