It was great to see all the trick-or-treaters at Northland Village Mall again this year!  Chameleon Entertainment provided the Halloween entertainment:  The Queen of Hearts, Batman, Malcolm Russel the Magician, Captain Jack Sparrow, two silver living statues and princesses Little Mermaid and Beauty from Beauty and the Beast.  The trick-or-treaters and moms and dads were dressed in their Halloween finest! Princess Little Mermaid was delighted to meet a little Ariel, with her mom Ursula, and her dad Triton!  The princesses met a rainbow girl (complete with clouds) (and surprisingly no leprechauns were following her yet), a Rainbow Dash, Monster High Dolls, fairies, witches,a plethora of princesses, a dolphin and an orca sister team, a rare white Siberian tiger, and many, many, many superheroes (the mall was well protected!).  The princesses were surrounded by fans and only managed to travel 20m in 2hr.
One Mad Hatter dad wished the princesses a very happy unbirthday.  The princesses asked him where the doormouse was and were informed that the doormouse was MIA and Alice hadn't even showed up for tea 🙁
One Mom had decorated her baby bump as the Death Star.
One grandma saw the princesses when they first arrived, had pictures taken with the princesses, then came back again to take pictures because she had decided to treat her granddaughter to a new pink princess dress that she bought at the mall and changed her granddaughter into it for a whole new set of pictures!
Captain Jack had come from work and had forgotten his pirate pants!  Thank goodness silver statue guy had khaki pants in his car that he could borrow (Silver Statue guy is really a superhero in disguise!)
Many kids were only going to have candy for dinner.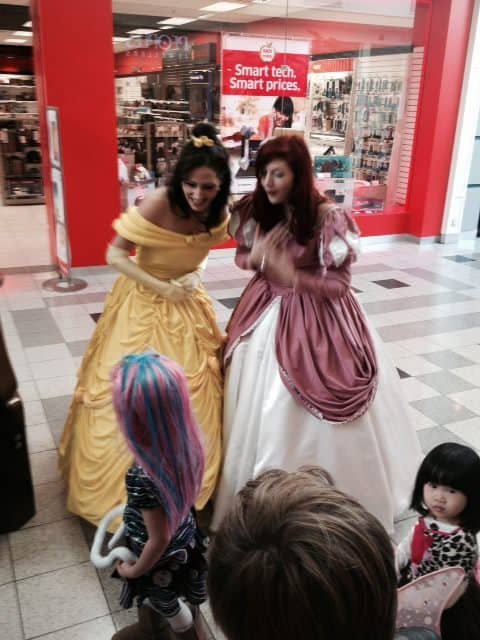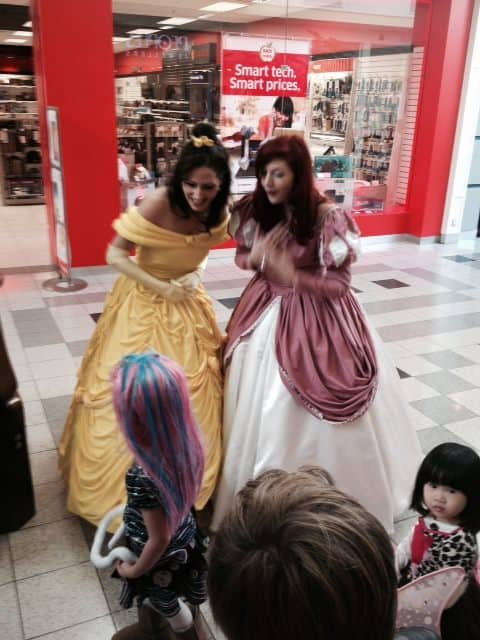 Princess Little Mermaid and Princess Beauty from Beauty and the Beast Interacting with trick-or-treaters at Northland Village Mall Copyright Chameleon Entertainment